Excavation & Site Work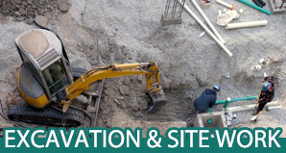 Excavation work is tricky. Whether you're installing a septic tank or are preparing for new home construction, turn to Richmond's Inc in Plymouth, Massachusetts, for the excavating services you need.
Leave the Excavating to Us
Septic system installations, land develop preparations, and pipeline repairs all have one thing in common: they require heavy-duty equipment and the expertise of excavating experts. For more than three decades, homeowners and business owners from around the area have trusted us for excavating services, and we're ready to assist you.
Excavating Projects:
• Site Preparations for New Home Construction Projects
• Septic System Installations
• Pipeline Repairs
• Landscape Preparations
• Automatic Pump-out System Installations
• Backflow Preventer Installations
• Basement Renovations
• Cesspool Repairs
• Dragline Installations
• Drainage System Installations
• Driveway Installations
• Dry Well Repairs
• Fiberglass System Installations
• Filtration System Repairs
• Fitting Installations
• French Drain Installations
• Gravel-Less Drain Field Installations
• Gravity System Installations
• Catch Basin & Trap Repairs
• Holding Tank Installations
• Precast Septic Tank Installations
• Pressurized System Installations
• Septic Tank Location Services
• Sewage & Effluent Pump System
Installations
• Tree Root Removals
• Water Line & Pipe Repairs
• Water Storage Vault Installations
 Additional Services:
• Demolition Services
• Backhoe, Bulldozer, & Dump Truck Services
• Snow Removal
• Brush Cuttings
• Digging Services
• Grading Services
• Land Clearing Services
• Perk Tests
• Trenching